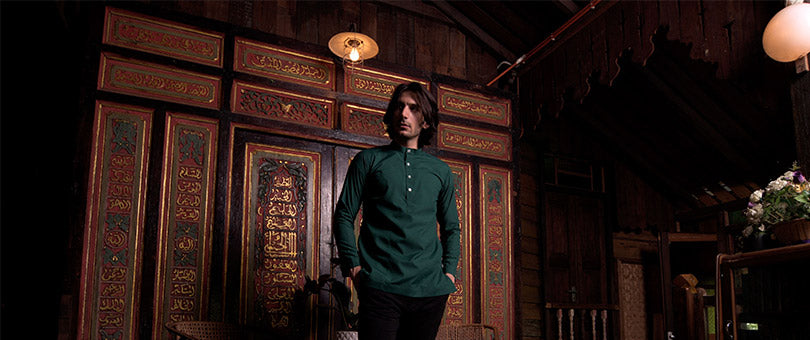 Trending Baju Melayu For Men This Coming Raya
We took three years to develop and produce our first Baju Melayu. You maybe asking why did that take such a long? Well, we were up on early mornings and late nights trying to figure out how to incorporate the following ideas into the final design:
The story goes that a writer once talked with a European foreigner who was both infatuated and puzzled by the Baju Melayu worn in Malaysia as it uses both polyester and satin fabrics.
Our first Baju Melayu. 
What bewildered her the most was the fact that with Malaysia being geographically located almost dead center in the middle of the tropical region, almost 99% of the Baju Melayus found in the current market are made of polyester and satin fabrics which can get rather hot and uncomfortable.
The writer's responded replied back with three reason:
Back in the day, polyester and satin were a much more affordable fabric in comparison to cotton which had a premium price attached to it.
During those times there was a extensive colour choice when it came to satin and polyester fabrics which was around 50 different colours.
Retail stores which had airconditioning back then would trick customers by making the Baju Melayu on display feel cold even though it would be the total opposite when being used outside.
That is one take on the situation, with that I would like to propose my explanation as to why the majority of Baju Melayus found in the Malaysian market are made using polyester and satin fabrics.
At Cirgaro Apparel almost 70% of our fashion products for men, women, and children use cotton fabrics rather than non-cotton fabrics as its a more suitable material to use.
Yes you can say we are fans of the cotton fabric, and through our experience we strongly believe that if you want to be fashionable but stylish regardless of daily wear or holiday wear then cotton based fabrics are the best way to go.
We took three years to develop and produce our first Baju Melayu. You maybe asking why did that take such a long? Well, we were up on early mornings and late nights trying to figure out how to incorporate the following ideas into the final design:
One of the most important barriers we wanted to overcome is to ensure that our fashion pieces are not a "one day outfit" which is only used once a year during Hari Raya Aidilfitri and is never touched again until the following year. We resulted in combining both the Kurta and the Baju Melayu to produce a modern fashion piece (click here to read more about the Kurta vs the Baju Melayu)
To reimagine the Baju Melayu, taking a classic fashion piece and modernising it. This includes; replacing the traditional removable buttons to fixed buttons and adding a minimalistic twist to the design by...
To design matching pants that are comfortable but still look sleek and stylish. We do not want to be like the other brands who focus too much on following the trends without thinking twice about comfort and leave customers unable to wear our clothes.
Although anyone can say "Oh, what is so hard about it? Just follow the Beju Melayu fashion". We tried our hardest to add multiple modern twists to the Baju Melayu without straying far away from the traditional style.
Both classical and modern influences in clothing has become more important in the industry this year, and we've done exactly that. Our Baju Melayu has the perfect balance between the two, the "Mandarin Collar" alongside the five coconut buttons encapsulates the classical design. While the addition of pockets and taking inspiration from the minimalist aesthetic symbolises the modern perspective.
To further elaborate on the classical aspect of this clothing, you may be thinking "okay, so what is so amazing about having coconut buttons?" These are not your standard buttons, something interesting about them is the fact that each single coconut button was carefully carved from a coconut shell. Which results in each button having a unique pattern that is completely different from each other.
Made of special Japanese Hybrita Cotton, you can guarantee that the Baju Melayu Cirgaro 2018 will keep you cool and comfortable throughout the day. And wait, there's more. Not only does the design of our Baju Melayu look nice but the versatility of it allows you slot it into any outfit you choose. Whether you choose to wear our Baju Melayu in jeans, slacks, or joggers you can ensure that it will match perfectly.
The cutting of the matching pants is both comfortable without sacrificing style. Following the modern trend of a slim fit at the knee all the way down to the bottom of the pants. Additionally, the matching pants feature an elastic grip at the waist to ensure for a more comfortable experience.
We hear and understand the problems that the modern man in this day and age has to go through, especially as we edge closer and closer to Hari Raya. We've all been through that situation where the only Baju Melayu available are the ones which don't perfectly fit our body type. And don't get me started on those pesky Baju Melayu buttons which seem to go missing almost every single time. With the Baju Melayu Cirgaro 2018, you can eliminate those problems and get a Baju Melayu that perfectly fits your body type, and where your buttons won't go missing anymore. 
Click here to read more interesting facts about our Baju Melayu & Kurtas.
The Baju Melayu Cirgaro 2018 come in three different colours: dark blue, belacan pink, and maroon. Furthermore, the Baju Melayu Cirgaro 2018 is available from sizes ranging from S to 4XL. 
Oh yeah and for those of you looking to really impress everyone during Hari Raya, the Baju Melayu Cirgaro 2018 matches perfectly with the women's Baju Kurung Modern Alyssa Luxe Peplum which is also available in various colours. Dress to impress with your significant other this Hari Raya, as every piece in this collection has its matching women's pair. 
For those of you who think we've forgotten about the rest of your family, think again. We also have stylish Kurtas for boys and fabulous Baju Kurungs for girls all available in various colours to allow your entire family to match perfectly. The perfect family Hari Raya outfit to make a perfect memory even better.